Queensryche, a marzo esce "The Verdict"
Ritorno in pompa magna per i Queensrÿche che a distanza di quattro anni da "Condition Human", pubblicheranno il loro nuovo "The Verdict.
Label: Century Media Records
Produzione, mixing e mastering: Zeuss (Rob Zombie, Iced Earth, Hatebreed).
Queensryche official website
Con l'uscita del nuovo album la celebre prog-metal band (nata a Washington nel 1980), si imbarcherà nella prima tranche del tour statunitense con partenza il 2 marzo 2019 da Orlando (Florida) –
Queensryche lineup
Michael Wilton (lead/rhythm guitar) – Scott Rockenfield (drum) – Eddie Jackson (bass) – Parker Lundgren (lead/rhythm guitar) – Todd LaTorre (lead vocal)
QUEENSRŸCHE HEADLINE TOUR DATES
March 2 - Orlando, FL - The Plaza Live
March 3 - Ft. Lauderdale, FL - Culture Room
March 5 - Atlanta, GA - Masquerade
March 7 - Baltimore - Sound Stage*
March 8 - Uncasville, CT - Mohegan Sun

March 9 - New York, NY - Irving Plaza*
March 10 - Worcester, MA – Palladium*
March 12 - Cincinnati, OH - Bogarts
March 13 - Detroit, MI - Diesel
March 14 - Chicago, IL - Concord
March 15 - Milwaukee, WI - The Rave
March 16 - Medina, MN - Medina Entertainment Center
March 17 - Davenport, IA - Rhythm City Casino Resort
March 20 - Dallas, TX - House of Blues
March 21 - Houston, ...
l'articolo continua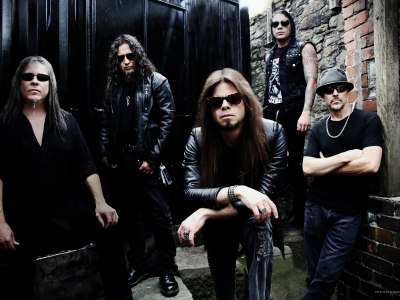 TX - House of Blues
March 22 - San Antonio, TX - Aztec
March 23 - Albuquerque, NM - El Rey
March 26 - Tempe, AZ - The Marquee
March 27 - San Diego - Observatory
March 28 - Los Angeles, CA- Fonda
March 29 - San Francisco, CA - Slim's
March 30 - Sacramento, CA - Ace of Spades
April 2 - Portland, OR - Crystal Ballroom
April 3 - Seattle, WA – Neptune
*w/ support from The Cringe

"I'm extremely proud of what we were able to accomplish on this record," states Queensrÿche vocalist Todd La Torre about The Verdict. "The relentless dedication and hard work of everyone involved has been very rewarding. I am excited and looking forward to it no longer just belonging to us, but belonging to the world.  We hope you all enjoy listening to it as much as we enjoyed making it!"

Michael "Whip" Wilton (guitar) adds, "The Verdict is the most metal and the most progressive record we have made in a long time. I couldn't possibly be more excited for everyone to hear this." 

To support The Verdict, Queensrÿche have also announced their spring U.S. headline tour today with special guests Fates Warning. The Cringe will be joining both bands on select dates. The tour will kick off on March 2nd in Orlando, making stops in major markets such as New York, Atlanta, Chicago, and Los Angeles, and will wrap on April 3rd in Seattle. The band recently finished a run supporting SCORPIONS this past September. For more information on upcoming tour dates and to purchase tickets, visit the band's website HERE. 

The Verdict follows the bands most recent release, Condition Hüman, received rave reviews from outlets such as Loudwire, KNAC, About.com, and more. The 2014 release debuted on Billboard's Top Rock Albums chart at #5 with over 14,000 units sold first week and 100,000 albums sold globally to date.

Queensrÿche have secured a triumphant legacy as one of hard rock's most respected and celebrated acts in the industry, selling over 30 million albums around the world across in the span of their 30-plus year career. Queensrÿche's stone cold classic debut full-length, The Warning, and the badass monster sophomore release, Rage for Order, reignited the flames of heavy, progressive, melodic hard rock and metal. With the release of the band's third album, Operation: Mindcrime , catapulted the band into mainstream success, single-handedly redefining the concept album and charged into the Top 40. A precision collection of near-perfect songs pushed landmark masterpiece Empire to triple platinum. "Silent Lucidity", off of the fourth LP, earned the band their second and third Grammy nominations, plus five nominations at the MTV Video Music Awards, where Queensrÿche picked up the Viewer's Choice Award. Following the massive success of Empire, the band released, Promised Land, which entered the charts at #3 and became another platinum selling record. Adding to their successes, Queensryche have dominated Rock Radio with hits like "Jet City Woman", "Another Rainy Night (Without You)", "Real World", "I AM I", "Bridge", and "Sign of the Times". Now, with the band's 16th full-length album on the way, Queensrÿche is looking to continue to dominate the heavy metal scene. 


---