Istanbul dà il benvenuto a Mirkko DeMaio
Istanbul Agop Cymbals amplia il roster degli artisti e dà il benvenuto a Mirkko DeMaio, il celebre batterista italiano dietro i tamburi di Flower King e Mind Key.
In quanto ai piatti Istanbul Agop, Mirkko ha scelto il seguente setup:
Xist Brilliant Series: 15" HiHat, 10" e 12" Mini China, 8" e 10" Splash
Xist ION Series: 14" Hi-Hat, 17" e 18" Dark Crash, 18" Crash
Power Series: 18" e 22" Power China
Traditional Series: 10" e 22" Trash, 7" Splash
Istanbul Agop Cymbals official website
Gli svedesi Flower Kings – noti paladini del prog capitanati da Roine Stolt (chitarra) – hanno appena finito di registrare "Waiting For Miracles", il loro 14esimo album in uscita l'8 novembre su Inside Out Music. Dal 1° dicembre daranno il via a una prima manciata di date in Europa.
Gli italiani Mind Keys sono usciti da poco con "MK III – Aliens In Wonderland" (Frontiers Music).
…………………………………………………………………………..…………….
Mirko DeMaio
– Here is a summary of my "drummer" history. I was born on July 31, 1984 in Pompei. I started playing drums and percussions at the age of 8 and at 9 I took the first drum lessons
progressively with: Peppe Merolla, Fredy Malfi, Sergio Di Natale, Dom Famularo (drums and percussion worldambassador), ...
l'articolo continua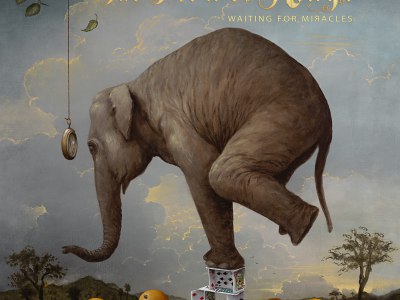 Ezio Zaccagnini and Dave Elitch (USA). I have played with some national, European and American artists, experimenting in various genres and recorded in many important national and international studies. I have also worked with Internal Disfunction, Angela Simoni (pop), Mauro Petricelli (short movie soundtrack), Shroomery (rock), Aiguille (chill music), Lady Sin (electro pop, alternative), R.Apples (alternative rock), Infurya (Death Metal), Radical Kitsch. In December 2008 I moved to the United States,
in Hollywood, CA, to attend the prestigious PIT (Musicians
Institute's courses) under the guide of instructors such as David Derge, Chuck Silverman, Fred Dinkins, Rob Carson, Donny
Gruendler, Andy Megna , Stewart Jean, Chuck Flores, Glen
Sobel, David Salinas and others. In July 2010 I have joined the
Barklee Summer clinics of Umbria Jazz where I had the
chance to deepen my studies with teachers such as Ron
Savage, Jon Damian and others; Giovanni Tommaso (director of clinics of Umbria Jazz) spent very kind words about me at that time.
Since September 2010 I collaborate with the band MIND KEY
(Frontiers Records) with whom I have performed in various live
shows; worthy of note is the Power Prog & Metal Festival in
Mons, Belgium supporting historical bands like Europe,
Hammerfall, Rage, Edguy, Vanden Plas, Gamma Ray, etc ...
In January 2012 I've recorded some tracks for the album "At
Home" (jazz, fusion) by the bassist from Campania, Alessandro Stellano. In February 2012 I moved temporarily to the UK to further
enrich my international live activity. In April and May 2012 I've starting touring with the hard rock progressive band STAMINA (Ice Warrior Records), as headliner for the first leg of the tour in Italy (Salerno, Pisa and Rome), Germany (Munich) and Austria (Kufstein), and opening act for the Danish band ROYAL HUNT in the second leg of the tour (May) which touches nations like Holland (Karkrade),
Madrid (Spain), Barcelona (Spain) and again in Italy (Romagnano Sesia-Novara). From 2008 to 2013 I've played for most of the times with the project "Mainstreet Project" by Alessandro Liccardo. 2013 has been a year mainly focused on clinics, demos and trade fair
events offered by the various brands of which I used to
endorse or I still endorse. From 2014 to 2016 I've played with the singer Luigi Libra for several shows in theatres and clubs, regularly playing together with artists such as Fausto Cigliano, Peppino Di Capri, Teddy Reno, Silvia Pagni, Kader Voduvni Alassane and others ... In 2015 I recorded an EP and CD for the band Exorcism and the Vivaldi Metal Project, a project that involves the biggest names in the metal and hard rock music world, such as Rick Wakeman, Fabio Lione, Steve Di Giorgio, Mark Boals, Maestro Mistheria, Marco Sfogli and many others. I also teach drums privately in my drum studio DRUM HELL.
Over the years I have also joined several international artists
as tech and translator during their drum clinics and master
classes in Italy. In 2015 I've rejoined the band HANGARVAIN (Volcano Records), a southern rock band with which I've continued to perform in the national and international live circuit till 2018. With the Hangarvain I also recorded in July 2015 the new album
FREAKS (released in February 2016) which sees the live
promotion already in early 2016 with three European and
Italian tours as headliner (Spain) and as opening act for Kilby
Clarke ( ex-Guns 'n' Roses) and LA Guns, in Kiev (Ukraine)
with the US band Skillets, and again in Italy with The Darkness. In 2018 Hangarvain back with a new EP "Roots & Returns" and a new tour in Italy, Ukraine and Latvia.
On August 2018 I've officially joined the legendary Swedish rock progressive band THE FLOWER KINGS (InsideOut Music/Century Media/Sony) of Roine Stolt (Transatlantic, Steve Hackett, The Sea Within, Kaipa DC). With TFK I've toured all over South America (Brazil, Argentina, Chile, Peru), Mexico (Guadelajara, Mexico City), Europe (Sweden, Norway, Germany, Holland, Switzerland, France,
UK) and in 2019 Canada (Montreal, Quebec City).
I regularly write for the Italian magazine DrumClub.
I am official endorser of ISTANBUL AGOP cymbals, VIC FIRTH drumsticks, REMO drumheads, ZOOM products.


---