ROCKING 1000 chiama… 150 batteristi rispondono!
ARIC IMPROTA
(FEVER 333/NIGHT VERSES)
JOINS THE BIGGEST ROCK BAND ON EARTH
Watch Him Lead A Call-And-Response Piece
With 150 Drummers
On Saturday May 14th, Rockin'1000, the band that managed to bring the Foo Fighters to the small coastal town of Cesena (Italy) in 2015, played to an audience of 50'000 people in Paris, France. Rockin'1000 made its return to the stages after almost three years, with a huge concert at the Stade de France in Paris that featured 1088 musicians from 25 countries in the world and a setlist consisting of 21 songs that have marked the History of Rock. The Biggest Rock Band On Earth!
The talented, Grammy-nominated drummer for the bands Fever 333 and Night Verses, Aric Improta also joined the Biggest Rock Band on Earth by playing Nirvana's Lithium. Earlier that day, Aric led an incredible Call-And-Response Piece with over 150 drummers of #TheBiggestRockBandOnEarth. The performance was filmed and is now available on YouTube and Instagram.
Aric has toured the world with Fever 333, Goldfinger and Night Verses. He is also the recent recipient of a Kerrang! Award and a Heavy Music Award with Fever 333, and was voted 2019's Number One Rock Drummer In The World by MusicRadar.com and Rhythm ...
l'articolo continua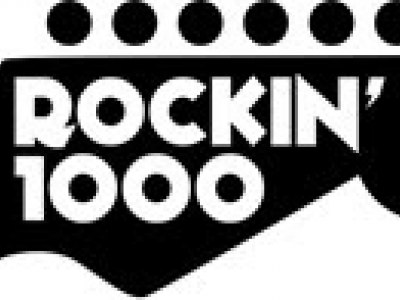 Magazine. Aric recently designed a signature drum head line with Remo, which are covered in his illustrations and are now available world wide. He's also collaborated with GoPro, Journey's Shoes, Schecter Guitars, Purple Mattress, among many others. Aric is currently on tour with FEVER333, supporting KORN's European Tour.
Aric had played drums for Korn for a few shows in 2021.

The protagonists
The second edition of Rockin'1000 in Paris involved 1088 musicians from all over the world who played live, simultaneously a two-hour rock repertoire: 359 guitarists, 166 bassists, 238 singers, 216 drummers, and, for the first time in France, 109 keyboardists, bringing to the turf of the Stade de France, the greatest standards of Rock music.
Coming from 25 countries belonging to the 4 continents (Europe, Asia, Africa, North America, and South America): 846 musicians from France only, 160 from Italy and, following from Germany, Belgium, Austria, United States, Monaco, Poland, Switzerland, UK, Greece, Ireland, Netherlands, Spain, Tunisia, Algeria, Brazil, India, Indonesia, Latvia, Luxembourg, Philippines, Portugal, Sweden, and Ukraine. The musician who came from the furthest away is a guitarist from the Philippines, while the oldest musician is a 70-year-old German singer, and the youngest is a 16-year-old French drummer. Finally, pink quotas are growing: for the first time, with 309 females and 779 males, nearly 30 percent of Rockin'1000 musicians are women and among them is also a young Ukrainian guitarist.




---