ARCH ENEMY, il 22 luglio 2022 esce "Deceivers"
Gli svedesi Arch Enemy annunciano il nuovo e 11esimo album "Deceivers", in uscita il 29 luglio 2022 su Century Media Records. 11 brani spietatamente orecchiabili, veloci e potenti.
Il nuovo singolo "Handshake With Hell" sarà presentato il 4 febbraio 2022.
Alissa White-Gluz - vocal
Michael Amott - guitar
Jeff Loomis - guitar
Sharlee D'Angelo - bass
Daniel Erlandsson – drum
Arch Enemy official website
"È una sfida alzare l'asticella ogni volta, sia riguardo al songwriting che alla produzione di un disco; cosa che pare persino scoraggiante prima di entrare in studio. Ma una volta che iniziamo e ci immergiamo nel processo creativo è come se non ci fosse nient'altro al mondo... E che ci crediate o meno, per la maggior parte del tempo, ci divertiamo un sacco! La realizzazione di "Deceivers" non è stata differente, ancora una volta abbiamo chiuso fuori il mondo esterno e ci siamo buttati al 100%. Credo che siamo riusciti a tirare fuori melodie e testi davvero interessanti: qualcosa potrebbe anche farvi sollevare un sopracciglio o addirittura entrambi, ma ci sono tutti gli elementi distintivi della band. Alla fine, si tratta di Arch Enemy a tutta velocità e potenza!"
"Deceiver" – tracklist
1. Handshake With Hell
2. Deceiver, Deceiver
3. In ...
l'articolo continua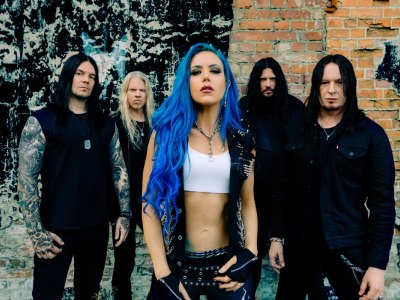 The Eye Of The Storm
4. The Watcher
5. Poisoned Arrow
6. Sunset Over The Empire
7. House Of Mirrors
8. Spreading Black Wings
9. Mourning Star
10. One Last Time
11. Exiled From Earth

In primavera gli Arch Enemy saranno in tour negli Stati Uniti assieme a Behemoth, Napalm Death e Unto Others. Successivamente il tour passerà in Europa con i Carcass al posto dei Napalm Death.

"Nonostante le ovvie incertezze che tutti stiamo affrontando nel mondo, per quest'anno abbiamo in programma diversi concerti! Siamo lieti di tornare sui palchi del Nord America, di essere presenti in alcuni festival europei, e di fare un grande tour europeo alla fine del 2022. Ci siamo detti: È il momento, facciamolo!"

Arch Enemy - The European Siege 2022 Tour
w/ Arch Enemy & Behemoth
+ special guests Carcass, Unto Others
Sept. 27, 2022 - Dublin, IE @ Olympia Theatre
Sept. 29, 2022 - Glasgow, UK @ O2 Academy Glasgow
Sept. 30, 2022 - Manchester, UK @ O2 Apollo
Oct. 1, 2022 - Birmingham, UK @ O2 Academy Birmingham
Oct. 2, 2022 - London, UK @ O2 Academy Brixton
Oct. 4, 2022 - Paris, FR @ Le Zénith
Oct. 5, 2022 - Toulouse, FR @ Le Bikini
Oct. 7, 2022 - Lisbon, PT @ Coliseu de Lisboa
Oct. 8, 2022 - Madrid, ES @ Palacio Vistalegre
Oct. 9, 2022 - Barcelona, ES @ Palau Sant Jordi
Oct. 11, 2022 - Lyon, FR @ Le Radiant
Oct. 12, 2022 - Milano, IT @ Alcatraz
Oct. 14, 2022 - Berlin, DE @ Columbiahalle
Oct. 15, 2022 - Prague, CZ @ Tipsport Arena
Oct. 16, 2022 - Budapest, HU @ Barba Negra
Oct. 18, 2022 - Vienna, AT @ Gasometer
Oct. 19, 2022 - Katowice, PL @ Spodek
Oct. 21, 2022 - Ludwigsburg, DE @ MHP Arena
Oct. 22, 2022 - Den Bosch, NL @ Mainstage Brabanthallen
Oct. 23, 2022 - Brussels, BE @ Forest National
Oct. 25, 2022 - Zurich, CH @ Samsung Hall
Oct. 26, 2022 - Frankfurt, DE @ Jahrhunderthalle
Oct. 28, 2022 - Munich, DE @ Zenith
Oct. 29, 2022 - Düsseldorf, DE @ Mitsubishi Electric Halle
Oct. 30, 2022 - Hamburg, DE @ edel-optics.de Arena
Oct. 31, 2022 - Gothenburg, SE @ Partille Arena
Nov. 2, 2022 - Helsinki, FI @ Ice Hall
Nov. 4, 2022 - Stockholm, SE @ Annexet
Nov. 5, 2022 - Copenhagen, DK @ Forum
Nov. 6, 2022 - Oslo, NO @ Sentrum Scene


---