SUONA ANCHE TU al Rockin 1000 Global Gig - Dubai
Rossana Pasturenzi
06 ago 2020
Rockin'1000 annuncia una nuova avventura, questa volta negli Emirati Arabi Uniti.
Rockin'1000
cerca
2500 musicisti
per realizzare
Global Gig
, ad oggi il più grande concerto rock virtuale.
Programmato in diretta streaming il
30 ottobre 2020
sugli schermi del
Global Village
di Dubai ed anche online per il pubblico internazionale.
Tutti i musicisti di ogni angolo del pianeta sono invitati ad unirsi a Global Gigal, registrandosi attraverso il portale di Rockin 1000.
Ulteriori informazioni e dettagli saranno diffusi a fine agosto.
Rockin1000 official website
Il concerto rock virtuale – organizzato in collaborazione con Global Village e ARN (Arabian Radio Network) – celebra l'apertura della 25a stagione del Global Village di Dubai, un luogo unico dove scoprire le culture di tutto il mondo attraverso il cibo, i negozi e i grandi eventi. A partire da oggi, tutti i musicisti di ogni angolo del pianeta sono invitati a partecipare!
........................................................................................................
Calling all musicians: join the world's largest virtual rock band today! Global Village and ARN announce Rockin'1000 Global Gig to open Season 25
Dubai (UAE, 26 July 2020): Global Village, the region's leading multicultural family destination, in partnership with ARN, the region's largest radio network, today announces the opening of registrations ...
l'articolo continua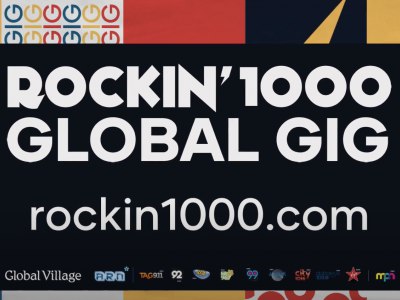 to join the Biggest Rock Band on Earth - Rockin'1000. Confirmed to play the opening event of Global Village's Silver Jubilee season on Friday 30th October, the renowned rock band has agreed to sign up hundreds of budding stars from the UAE for this historical virtual concert. Rockin'1000 Global Gig will feature 2500 artists from around the world to celebrate the power of community and cultural inclusion.  

Global Village recently announced opening dates for Season 25 as Sunday 25th October 2020 and promised a season like no other. This unique opening event is a perfect example of that. The virtual concert will be live-streamed from the Main Stage at the Park, but people the world over can enjoy the concert online too. 

Jaki Ellenby, Executive Director of Marketing and Events, Global Village, said: "Global Village is all about bringing people and cultures together. So for our 25th season we wanted to find a way to bring as many people as possible from around the world to celebrate with us here in Dubai. We are delighted to be working hand in hand with ARN and the inspirational Rockin'1000 team to make our opening event a truly global one. We want to promote the spirit of togetherness through music – a community event transcending social differences, geographical borders, generation gaps, and other discriminations between peoples."

Rockin'1000 was created by Fabio Zaffagnini and his team 5 years ago when he brought together 1000 musicians to play in his home city of Cesena to convince his favourite band, the Foo Fighters, to add Cesena to their tour plan. Little did he imagine that what started as a stunt, would become a world-wide phenomenon and that Rockin'1000 would soon play some of the biggest stadiums in the world. 

Fabio Zaffagnini, Founder and General Manager, Rockin'1000, said: "Like Global Village, Rockin'1000 is full of extraordinary, passionate people spanning generations and cultures. From newbies to professionals, from kids to grandparents, from metalheads to jazzmen, Rockin'1000 is everybody's band! ARN and Global Village have challenged us to create an historic virtual concert uniting 2500 artists from 100 countries around the globe. So this is a call to musicians and singers of all levels and all nationalities to join us on a wonderful journey to celebrate the power of community."     

This historic concert will be held in partnership with ARN, the region's leading multi platform media company. Over 200 Nationalities listen to ARN's 9 radio stations broadcasting in 6 different languages. Through its media portfolio, ARN will be encouraging participation to reflect the diverse makeup of the UAE.

Singers or musicians of any level can take part in this unique event, by going to the Rockin'1000 website to sign up. 
www.rockin1000.com/globalgig/en (English)
www.rockin1000.com/globalgig/ar (Arabic)

About Rockin'1000
In 2015, a marine geologist passionate about rock who had never organized an event before got help from his friends, who were insiders in the world of entertainment, to achieve the impossible. Fabio Zaffagnini's goal: to gather 1000 musicians in a meadow to play "Learn to Fly" by the Foo Fighters in unison to convince the famous American group to perform in his city, Cesena. The video of the performance immediately went viral (today it has over 53 million views) and the Foo Fighters responded, accepting the invitation and adding a date to their tour. From this unexpected success, a format was born: Rockin'1000, the Biggest Rock Band on Earth. The band has performed many concerts in stadiums and special locations, created an album produced with Sony Music Italy and the outbound film We Are The Thousand - directed by Anita Rivaroli, which tells the story of the band's genesis and is currently nominated in some of the most important international film festivals. From an original idea by Fabio Zaffagnini, created with founders Claudia Spadoni, Martina Pieri, Mariagrazia Canu, "Cisko" Ridolfi and Anita Rivaroli, today Rockin'1000 is an award-winning company that carries out international projects and is invited to collaborate with partners around the world.
https://www.rockin1000.com/en/ 

About Global Village
Global Village is the leading family destination for culture, entertainment and shopping in the region. Since its inception, it has embodied different aspects of the world and created a smile on the faces of millions of guests every season. It is a unique and integrated open-air destination for shopping, dining and entertainment experiences from around the world. Global Village offers guests the largest and most varied range of events, shows and activities in the region, taking all visitors on a lively multicultural adventure comprising exquisite cuisines and awe-inspiring entertainment. This inclusive destination offers exceptional value with an entry ticket price of just AED 15.
https://www.globalvillage.ae/

About ARN
The Arabian Radio Network is the largest and most successful radio network in the Middle East, with radio stations representing every major community in the UAE.
Radio stations include Tag 91.1, Al Khaleejiya 100.9, Al Arabiya 99, Dubai 92, Virgin Radio 104.4, Dubai Eye 103.8, City 101.6, Hit 96.7 and Radio Shoma 93.4 and Chinese channel Dubai Dragon.
And MPN, the sales house which offers OOH advertising, event sponsorships, brand activations and family attraction sponsorship for hundreds of brands who seek a wider presence than just radio.
Headquartered at Dubai Media City, ARN is part of the Arab Media Group.
www.arn.ae 
 



---