Richie Gajate-Garcia riceve un dottorato al Lincoln College
Percussionista, insegnante, autore e mentore tra i più accreditati, Richie Gajate-Garcia riceve il Doctorate of Fine Arts dal prestigioso Lincoln College (di Lincoln, nell'Illinois statunitense): un tangibile riconoscimento al suo fondamentale contributo didattico.
Percussionista tra i più richiesti, autore di metodi dedicati all'arte della percussione ed insegnante presso il Musician's Institute di Hollywood, Richie Gajate-Garcia da anni è un endorser e stretto collaboratore di Latin Percussion: sua è l'invenzione del popolare
Gajate Bracket
, e suo è il contributo creativo nella realizzazione della
LP Gajate-Garcia Signature
, serie che contempla conga, bongo e djembe.
LP PERCUSSIONIST RICHIE GAJATE-GARCIA RECEIVES HONORARY DOCTORATE FROM LINCOLN COLLEGE
May 29, 2018 – Oxnard (California) – Percussionist, educator, author and mentor Richie Gajate-Garcia has received an Honorary Doctorate of Fine Arts from Lincoln College in Lincoln, Illinois in recognition of his contributions in the areas of the Arts and music education.. A long-time endorser of Latin Percussion, Dr. Gajate Garcia is one of the world's most in-demand percussionists and educators. He is also the author of four instructional music books, a faculty instructor at the Musician's Institute in Hollywood and the inventor of the popular Gajate Bracket and creative collaborator on ...
l'articolo continua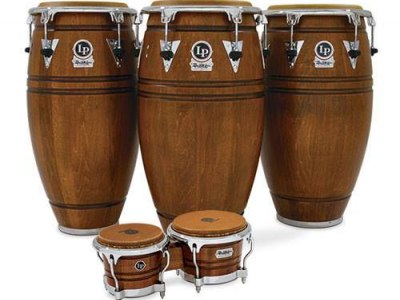 LP's Richie Gajate-Garcia Signature Series Congas, Bongos and Djembe. Founded in 1865, Lincoln University awards honorary degrees in recognition of individuals whose accomplishments and character embody Abraham Lincoln's spirit of simplicity, sincerity and high achievement and are such that they would have been personally admired by President Lincoln.
"The entire LP Family is proud to share in this honor with Dr. Richie Gajate-Garcia," said DW Founder and Chief Product Officer for Latin Percussion, Don Lombardi. "Richie's long-time devotion to sharing his knowledge and experience with aspiring percussionists through his teaching, workshops and books is unsurpassed. His innovation in creating the Gajate Bracket, which has become the industry standard and a prized tool of drummers and percussionists, has left an indelible mark on our industry."
Gajate-Garcia earned a bachelor's degree and teaching credentials from the American Conservatory of Music in Chicago which is where he launched his professional career working with Frankie Valli. His hybrid playing style of simultaneously playing drumset and percussion, earned Gajate-Garcia the affectionate nickname, of "El Pulpo" (The Octopus) in tribute to his independence and mastery of technique. Gajate-Garcia has performed with Phil Collins, Frankie Valli, Don Henley, Diana Ross, Patti LaBelle, the Boston Pops and Ritchie Sambora to name a few. He has recorded with Stevie Wonder, Sting, John Denver, The London Symphony. He has worked on Oscar award-winning film scores and Grammy award winning and nominated projects. Mr. Gajate-Garcia's career has taken him around the world, performing at such venues as Madison Square Garden, the Royal Albert Hall In London, The Hollywood Bowl and the Mt. Fuji Jazz Festival stage in Japan.
He is also the proud father of musicians Roland, Tristan, Devin, and Lisette Gajate-Garcia. Richie, Tristan and Roland have performed together internationally. Roland is the house percussionist on Dancing with the Stars and has been a guest speaker at the Percussive Arts Society International Convention the largest gathering of drummers and percussionists in the world. Richie and all 3 sons have all been guest performers on NBC's The Voice.

about LATIN PERCUSSION (LP)
Founded in 1964, Latin Percussion (LP) is the largest hand percussion instrument brand in the world. The company offers an extensive line of hand percussion instruments and percussion accessories including patented designs such as the Jam Block®, Ridge Rider Cowbell® and Egg Shaker. Many of the world's top artists play LP including: Giovanni Hidalgo, Richie Gajate-Garcia, Karl Perazzo, Stewart Copeland, Steve Gadd, Travis Barker, Mike Portnoy and Cindy Blackman-Santana among others. www.lpmusic.com




---