Quiet Riot: (ri)registrate tutte le tracce daccapo, "Road Rage" uscirà ad agosto
I brani della tracklist erano pronti e l'uscita di "Road Rage" era schedulata per la scorsa primavera ma, a un certo punto, la band ha deciso di rifare tutto daccapo e chiamare James Durbin, il vocalist fuoriuscito da American Idol. Il risultato? Brani (re)interpretati e (ri)registrati per un album che gli stessi Quiet Riot sono certi che farà la felicità dei fan sparsi per il globo.
Dichiara entusiasta Frankie Banali:
"Le registrazioni del nuovo "Road Rage" sono state un fantastico viaggio della storia dei Quiet Riot… Ho chiesto a James Durbin quel che sapevo lui fosse in grado di fare e così è stato. Non solo i testi e le melodie hanno calzato alla perfezione, ma l'interpretazione di James ha portato il tutto a un livello più elevato. I Quiet Riot saranno quindi on the road per tutto l'anno!"
"Road Rage" esce il prossimo 4 agosto 2017 per Frontiers Records.
"ROAD RAGE" lineup
James Durbin (vocal) – Frankie Banali (drum) – Alex Grossi (guitar) – Chuck Wright (bass)
Quiet Riot tour 2017-2018
• 6/2: Lincolnton, NC @ Court Square
• 6/4: Myrtle Beach, SC @ The Boathouse Concert Series
• 6/10: Farmington, Hills MI @ Motor City Harley Davidson Festival
• 6/17: ...
l'articolo continua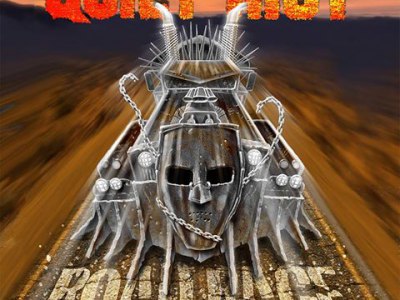 Sauk Rapids, MN @ Old Capital Tavern
• 6/23: Lynchburg, VA @ Phase 2
• 6/24: Big Spring, TX @ Annual Fantastic Fourth
• 6/30: Marksville, LA @ MARI CENTER - PARAGON CASINO
• 7/1: Junction City, KS @ Sundown Salute
• 7/7: Santa Cruz, CA @ Santa Cruz Beach Boardwalk
• 7/15: Lake Ozark, MO @ The Horny Toad At Camden On The Lake
• 7/21: Las Vegas, NV @ The Golden Nugget Casino
• 8/11: Greenville, TX @ The TExan Theater
• 8/12: Longview, TX @ Maude Cobb Event Center
• 8/18: Imperial, NE @ Chase County Fairgrounds
• 8/25: Le Roy, NY @ Jam At The Ridge
• 8/26: Port Falls, ID @ Stateline Cruiser
• 9/1 - San Pedro, CA @ USS IOWA - Fleetweek 2017
• 9/2 – Wilmington, NC @ The Thorne Theater
• 9/7 - Jim Thorpe, PA @ Penn's Peak
• 9/15 - East Durham, NY @ Catskill Mountain Thunder
• 9/21 - St Charles IL @ Arcada Theater
• 9/23 – Newkirk, OK @ Southwind Casino
• 10/19: Houston, TX @ Proof Rooftop
• 10/28: Brownsville, TX @ Rock The Park Festival
• 10/29: Pekin, IL @ Avanti's Dome - Rock 'N' Skull Festival
• 11/4: Pembrook, Pines FL @ Rockfest 80'S -CB Smith Park
• 11/8: West, Hollywood CA @ The Whisky A Go Go
 
• 2018 February 15/19, Rock Legends Cruise



---