Metallica ... And Justice For All (Remastered)
I Metallica celebrano il 30° anniversario dell'uscita del loro rivoluzionario quarto album "…And Justice For All" con l'annuncio della sua ristampa definitiva, in uscita il 2 novembre 2018.
La ristampa di …And Justice For All è stata rimasterizzata per ottenere la miglior qualità sonora oggi possibile, con la supervisione del leggendario ingegnere del suono Greg Fidelman. Sarà disponibile in diversi formati.
• 2LP (180 g)
• 1 CD (Album standard)
• 3CD (Expanded Edition)
• Boxset 6 LP + 11 CD + 4 DVD (Limited Edition Deluxe)
• MC
• Digitale
La Expanded Edition include demo inediti, rough mix, tracce live inedite e un booklet ampliato con foto di Ross Halfin mai viste prima d'ora. L'esclusivo Limited Edition Deluxe Boxset include il doppio LP 180g rimasterizzato, il picture disc "One", 3LP con la storica performance di Seattle del 1989 -remixata da Greg Fidelman-, 11CD, 4DVD, memorabilia, i testi dei brani, la download card ed un bellissimo libro di 120 pagine con foto ...
l'articolo continua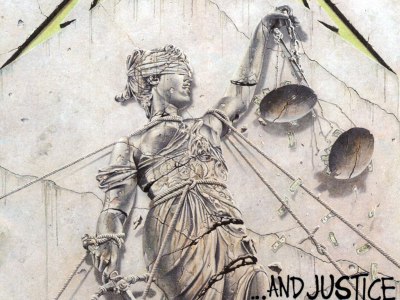 mai viste prima, aneddoti e nuove testimonianze.

In origine …And Justice For All è stato pubblicato (... nonostante ciò che internet potrebbe raccontare) il 7 settembre 1988, per Elektra Records. Certificato 8 volte Disco di Platino negli Stati Uniti, ... E Justice For All ha segnato una serie di "prime volte" per i Metallica: la prima registrazione completa per il bassista Jason Newsted, il primo album dei Metallica ad entrare in Top 10 negli Stati Uniti dove ha raggiunto il 6° posto, il primo video della band e il primo singolo in Top 40 ("One"), la loro prima performance ai Grammy Awards, così come la loro prima perdita ai Grammy (Best Hard Rock / Metal Performance Vocal o Instrumental per ... And Justice for All), ma anche la prima vittoria ai Grammy (Best Metal Performance per "One"). Ha ricevuto anche più elogi dalla critica rispetto a tutti i dischi precedenti, con Rolling Stone che ha salutato l'album come "una meraviglia di aggressività incanalata in modo preciso", Spin che lo ha definito "una gemma preziosa".


---