Gioeli & Castronovo, "Set The World On Fire"
Nel 1992 Johnny Gioeli e Deen Castronovo pubblicavano "Double Eclipse", ora i due artisti sono tornati a lavorare assieme in studio ed il risultato è il nuovo "Set The World On Fire".
"Set The World On Fire" – Frontiers Records, Italia
Dodici tracce in cui la voce e l'interpretazione superba di Gioeli si combina a meraviglia con il drumming solido e pertinente di Castronovo ed il supporto della band intervenuta.
Lineup: Johnny Gioeli (vocal) – Deen Castronovo (drum/vocal) – Alessandro Del Vecchio (keyboard, backing vocal) – Mario Percudani (guitar) – Nik Mazzucconi (bass)
Registrazioni/mastering: Ivorytears Music Works Studios (Somma Lombardo, Varese) – Produzione/mixing: Alessandro Del Vecchio.
Tracklist
1. Set The World On Fire
2. Through
3. Who I Am
4. Fall Like An Angel
5. It's All About You
6. Need You Now
7. Ride Of Your Life
8. Mother
9. Walk With Me
10. Run For Your Life
11. Remember Me
12. Let Me Out
Classe 1964, batterista californiano di gran caratura (ed anche valente vocalist), Deen Castronovo ha messo il suo drumming in una infinita lista di album e tour. Qualche nome? Journey, Bad English, Revolution Saints, Ozzy Osbourne, Steve Vai, Paul Rodgers, Marty Friedman, Fear Factory, Vasco Rossi… Attualmente è impegnato con i Dead Daisies
Johnny Gioeli ...
l'articolo continua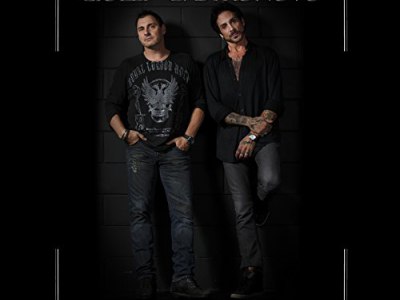 and Deen Castronovo first played together on the debut Hardline album, "Double Eclipse", which was released in 1992. 25 years later, the two were reunited in Italy to commence work on the debut Gioeli-Castronovo album, "Set The World On Fire".

"It was so great to work with Johnny again, I've always loved his voice and it was a pleasure to be a part of this collaboration! It was like we'd never left each other," says Castronovo.

"It was like the first day he tried to hold my hand and kiss me in 1992. Ha Ha!!! KIDDING! Seriously, I never left Deen. Deen never left me, so reuniting was easy. Counting our blessings were plentiful. Singing together was magical," says Gioeli about working with Castrovo again.

Both men have continued on their musical paths since they last saw one another, with Gioeli continuing to lead Hardline, while Castronovo spent time with Ozzy Osbourne and had an extended tour of duty with the legendary Journey. Castronovo is currently active with The Dead Daisies and Revolution Saints in addition to Gioeli-Castronovo.

Gioeli's vocal talents combined with Deen's superb drumming abilities (and whom is also a fine vocalist in his own right) has made for a stunning album that is driving a driving hard rock record, while also chock full of uplifting melodies and poignant lyrical messages.

We'd tell you to sit back and enjoy this album, but you'll be on your feet the second it starts, so stand up and take notice of this display of two immense talents doing what they do best!

https://www.facebook.com/johnnygioeliofficial/ 
https://twitter.com/johnny_gioeli 
https://www.instagram.com/johnnygioeli/ 
https://www.deencastronovo.net/ 
https://www.facebook.com/DeenCastronovoOfficial/ 
https://twitter.com/DeenTheDrummer
 



---