Records Store Day 22 aprile 2017 - 10° anniversario
Tantissime le pubblicazioni annunciate dall'industria discografica italiana in uscita il 22 aprile 2017 per il primo decennale del Record Store Day; l'iniziativa nata negli Stati Uniti e dedicata ai negozi indipendenti, supportati con anteprime, ristampe ed edizioni speciali.
Quattro quelle dedicate a David Bowie: "Cracked Actor", un triplo live inedito registrato a Los Angeles nel '74 durante il tour di "Philly Dogs" (diverso dal contemporaneo "Bowie Live") -"Bowpromo" (album rarissimo con sette versioni alternative dell'era "Hunky Dory") - "No Plan EP" (ora in vinile blu picture-disc) - "Ragazzo Solo, Ragazza Sola", testo di Mogol sulla musica di "Space Oddity".
Dai Pink Floyd arriva una nuova versione di "Interstellar Overdrive", tratta dalle session di "The Piper at the Gates of Dawn"; mentre di "Hammersmith Odeon, London '75" (registrazione del primo concerto europeo di Bruce Springsteen & The E Street Band), è finalmente disponibile il vinile ufficiale. Imperdibile il picture-disc di "Little Red Corvette" di Prince (fuori catalogo da decenni) e l'album ("What Time Is It") dei Time, con la produzione dell'artista di Minneapolis.
Tra le novità internazionali si segnalano "You're In Love With A Psycho" dei Kasabian (anticipazione del nuovo album "For Crying Out Loud!" e "Meeting Of The Waters" della ...
l'articolo continua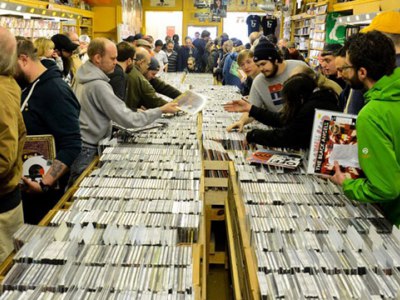 band sperimentale Animal Collective, protagonisti di un nuovo show su Vice Tv. Il rock lo-fi di Iron & Wine con "Archive Series Volume No. 3", Bonnie Prince Billy e Nathan Salsburg, curatore degli Archivi Alan Lomax, con l'alternative folk di "Beargrass Song + 2 EP" e "Live in Perth" di Ben Folds, spalleggiato dalla West Australian Symphony Orchestra.

Tra gli italiani, da citare "Radar (EjABBABBAjE)" dei Verdena del 2011, una versione inedita di "Qui Non C'è il Mare" degli Statuto, in cui appare Caparezza, in tempo per il ventennale di "Zighidà". Ci sono poi "Forma e Sostanza" dei C.S.I, "CRX" dei Casino Royale e "Ho Imparato A Sognare" dei Negrita.

Nuovamente disponibili "Ma Cosa Vuoi Che Sia Una Canzone", l'album di debutto di Vasco Rossi, "Dentro Me" dei La Crus, oltre a "17 Re" e "Spirito" dei Litfiba.

In tema di classici, arriva la prima stampa in vinile per i Fleetwood Mac con "Alternate Mirage", dunque "Bambu (The Caribou Sessions)" di Dennis Wilson, "Live At George's Club 20" di Jimi Hendrix (e Curtis Night), "P.N.E. Garden Auditorium, Vancouver, British Columbia, Canada, 7/29/66" dei Grateful Dead, Carlos Santana con "Live at The Woodstock Music & Art Fair, August 16, 1969" e "Live At The Matrix '67" dei Doors.

"Rarities: 1981-1983" preleva dai primi due album solisti di Stevie Nicks, mentre "The Johnny Cash Children's Album" di Johnny Cash attinge dal repertorio del programma tv Sesame Street. "Moondog" (di Moondog) è la ristampa di "The Viking of 6th Avenue" del '69, tra gli album seminali della carriera degli allora giovani Philip Glass e Steve Reich. Vinile triplo per "The Centennial Collection" di Robert Johnson.

Tra i 45 giri, nuove versioni di "The Boy With The Thorn In His Side" e "Rubber Ring" degli Smiths, il picture-disc di "Africa" e "Rosanna" dei Toto, "State Of Love And Trust" dei Pearl Jam, "Thousand Knives2 di Ryuichi Sakamoto e "Rollo" di Frank Zappa.

Al debutto tra i boxset, "76-'79 Single Box" dei Ramones e per i seguaci delle sonorità black le release di Cypress Hill, Frank 'N' Dank & Jay Dee, U-Roy...

Come ogni anno, Radio Capital è l'emittente italiana ufficiale del Record Store Day: il 22 aprile 2017 renderà omaggio a tutti i negozi di dischi indipendenti con una programmazione interamente dedicata all'iniziativa.

La lista completa dei dischi disponibili nei negozi italiani sarà a breve online su www.recordstoreday.it



---